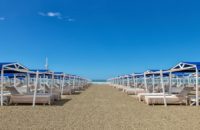 Augustus Beach Club
Exclusive private Beach Club in Forte dei Marmi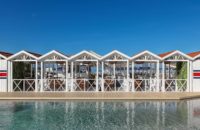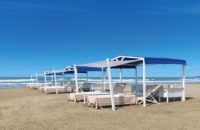 Luxury glamorous gazebos on the beach of Forte dei Marmi
Relaxing on the beach at the Augustus Beach Club means a living experience.
The oasis scene, the elegant sitting areas on the beach, palm trees and the landscape's colours enchant every corner.
74 stylish elegant gazebos, well spaced and equipped with a queen size sun lounger, 2 single sun loungers, 2 deck chairs, and a table, the comfort of luxury on the beach.
Beach tents rates changes on the season and position.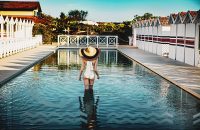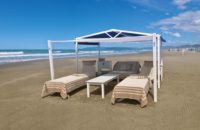 Services on the beach
At the Augustus Beach club the attentive beach staff take care of our guests all day long.

The Beach offers a daily towel service, so the guests have nothing to think about but enjoying the ambiance of the beach lifestyle.

Under your gazebo or under the beach bar drapes, or even among the beach sitting rooms you can have a cocktail, you can taste the original specialities of the chef all day long: from the original club sandwiches till the "bomboloni" ( local sweets for the afternoon snack).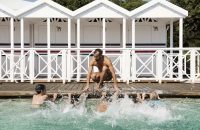 Water sports and activities
Complete relaxation on the beach
The heated sea water swimming pool allows for a more pleasant and relaxing day on the beach from spring through the hottest summer days.
For water sport lovers our instructors are available on request for sailing and canoeing lessons, swimming lessons for children, or lessons in surfing and windsurfing. The "pattìno" (double hulled rowing boat) is a typical Versilian boat, and anyone who spends a few days on this coast should not lose the opportunity for a short trip on the sea in one of these rowboats.